Powerflushing
Covering Blackheath, Charlton and Greenwich

As well as surrounding areas such as Welling, Sidcup, Bexleyheath and Chislehurst


Here at McGrath Heating Services Ltd, we provide a complete professional power flushing service for radiators and central heating systems; ensuring they perform at their best and reducing the risk of an unexpected breakdown. As well as improving the overall efficiency of your heating system, power flushing can help reduce energy bills, prevent blockages and reduce the risk of boiler breakdown. Power flushing is carried out by our Gas Safe registered engineers and we use the best power flushing machines to ensure the best results.


What exactly is a Powerflush?

A Powerflush is a cleaning process carried out by our heating engineers for your central heating which removes dirt, rust, sludge and any other debris that may have built up within your system (radiators, pipes, boiler etc) over time.

Our heating engineers use a Proflush Professional Magmaster power flushing unit to send water through your system at very high speeds to dislodge any unnecessary build-up of debris.
We only use the best power flushing unit available supplied by Norstrom. To read more about the Proflush Professional Magmaster we utilise click here.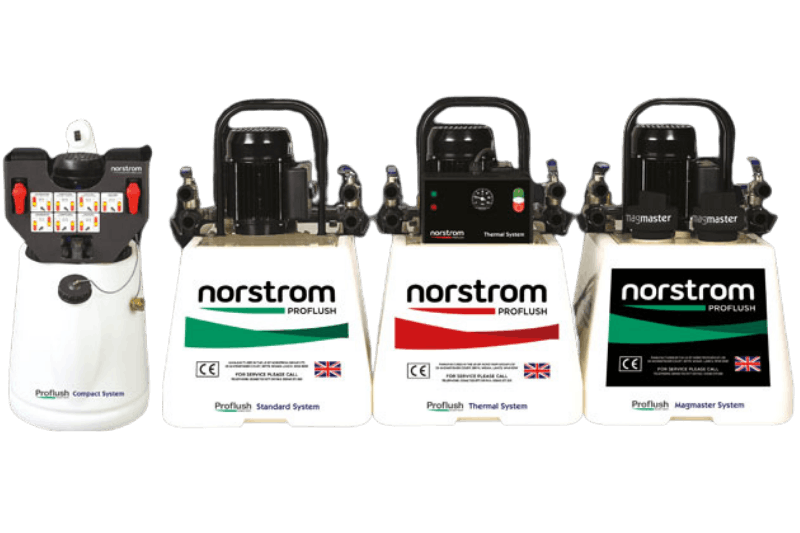 New Legislation from June 2022
The Ministry of Housing, Communities and Local Government (MHCLG) has published 2 Building Regulations updates, which apply to England.

Here are 5 of the most important changes coming soon:
- Installation of in-line filters to protect system components
- Annual checks for the concentration of chemicals and water cleanliness
- The inhibitor should be re-dosed at 5-year intervals
- Biocidal and frost protection should be used where applicable
- Only 3 recommended cleaning methodologies: power flushing, mains pressure and gravity cleaning

You can read more about the upcoming changes by clicking here.
Do I need a powerflush?

Your radiators may be cold with only a hot strip at the top
Feel the underside of your radiators. Notice the bottom is much cooler than at the top?
You may have sludge inside your radiator blocking it.


You are getting a new boiler soon
If you are planning a boiler replacement soon, all sludge and debris must be removed from your system otherwise this could blog up your shiny new boiler!
Here at McGrath Heating Services, we can carry out a powerflush before we fit you a new boiler to ensure optimum system performance.


Your heating or hot water is slow to heat up OR it isn't feeling as hot as it used to.
If this is the case there is a good chance your central heating system may be suffering from congestion of sludge and debris. Contact us today and we can take a look for you.


Black sludgy water present in the heating system
If you are a victim of black sludge, it is best to call us on 07812739696 to flush your radiators, boiler and pipework. We will take a look at the underlying problems for quick and responsive work to leave you happy with the job.
Benefits of having a Powerflush carried out


Enhanced energy efficiency
Reduces the risk of a boiler breakdown, potentially saving repair bills.
Radiators warm up much quicker
Increases system lifespan
Reduced noise from radiators and boiler

If you require more information about power flushing or want to book your system with McGrath Heating Services, call us today on 02080501718 or visit our contact page.